8,000 professional, creative jobs are approved and headed for Costa Mesa primarily north of the 405 and that's great news for Costa Mesa's economy, and for its creative and cultural future as the City of the Arts.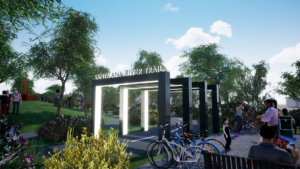 While the neighborhood north of the 405 draw young innovators to work at places like Vans and The Press, a $200 million creative office campus that will offer work spaces for some 3,300 employees the lack of adjacent housing causes pressure across Costa Mesa.
The One Metro West community also includes 25,000 square feet of creative office space in a building set adjacent to and fully integrated with the 1.5 acre open space park.
Housing north of the 405 gives the thousands of workers commuting to and across Costa Mesa a better choice by offering to exchange commute pressure with the award winning restaurants and retail of the SoCo district within a pedestrian friendly neighborhood.
In addition, by replacing underused fifty year old industrial facilities with the first open space park in a generation north of the 405 and a significant, groundbreaking 25,000 square foot creative office space, Costa Mesa will continue to wisely grow a neighborhood where only jobs and commuters are today.
For more information, click here.
http://onemetrowestcm.com/wp-content/uploads/One-Metro-West-Logo.png
0
0
Jeff Gibson
http://onemetrowestcm.com/wp-content/uploads/One-Metro-West-Logo.png
Jeff Gibson
2020-02-24 08:54:07
2020-02-12 19:59:36
A Plan Drawn From The Best Of Costa Mesa