Vans, SoCo, and the Press which is being developed right now are all updates and upgrades from previously underutilized, often industrial land.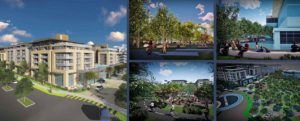 Today, just these three projects will account for more than 3,500 approved professional and creative jobs.
Right next door to all of this, One Metro West will transform a 16-acre underutilized, five decade old industrial property into a vibrant community, with one of the signature features being a contemporary outdoor public space. That's 1.5 acres of green within an easy walk of employers, restaurants, and residents. The park will be a living work of art with swirling berms of natural turf, large shade trees, and a water element that will serve as the aesthetic focal point.
Better still … this open space will be designed for easy access with surrounding employers helping them attract and create more career building jobs by adding beauty and activity where cracked sidewalks sit today.
That's an upgrade we can all be happy with! For more information click here.
http://onemetrowestcm.com/wp-content/uploads/One-Metro-West-Logo.png
0
0
Jeff Gibson
http://onemetrowestcm.com/wp-content/uploads/One-Metro-West-Logo.png
Jeff Gibson
2020-02-16 23:22:57
2020-02-12 20:28:59
Upgrading Our Future